Hey, everybody!  I am so excited to be joining the Twixt guided tour just in time to celebrate the release of Invisible, which came out last week! If you haven't read the first book in this series yet, what are you waiting for? I absolutely LOVED it! Go check out my review of Indelible HERE! But … WAIT! Make sure you come back here because I don't want you to miss out. We're going to be meeting up with one of the characters from the book today, right here in Abbot's field … Joy.
She should be around here somewhere …
Ah, yes, there she is! See the athletic looking girl with her brown hair up in a ponytail.  Yep, that's definitely Joy. She's even wearing her signature non-matching socks. I'd recognize her anywhere! Hey, maybe we can talk her into doing a tumbling pass for us or something. At least a few flip flops. I've heard she's AMAZING!
*        *        *
Hi! I'm Joy. I wasn't expecting you so soon. You're on the tour, right? Sorry I'm a bit…yeah. I was just hanging out, remembering stuff. If you follow the fence, there's a break near the parking lot. Look around. This is the place: Abbot's Field. I used to practice here all the time when I was little. My brother would come coach me sometimes, but mostly, I was here by myself. I know it's kind of weird doing gymnastic routines on an old soccer field, but after five a.m. practice and after-school practice and weekend practice, I used to crave a little fresh air that didn't smell like armpits and plastic. I miss the chalk, though. I like the feel and smell of chalk.
So, yeah, this is where I trained for the Olympics in private, but those days are way behind me. I'm doing other things now and the only time I'm doing crazy stunts is when someone's trying to kill me. Joke! Joking. I'm just joking. Well, not really, but let's not make a big deal about it. If my family had any idea…well, I'd think Rapunzel would have an easier time getting out on a Saturday night. It's not that my dad's strict or anything, actually he's pretty clueless, but I'm the only family he's got right now with my brother off at U Penn and my mother being…off. In L.A. It's a long story that ends in "divorce" so I'm trying to rock the boat as little as possible. Yeah, I know, good luck with that.
Okay, we're moving. See that house across the field? That's Mr. Abbot. He still tends this soccer field by hand, which makes it smooth and springy. It's really kind of amazing doing flips on the stuff! And if you go around the trees over there, there are picnic benches and barbeque grills and then across the road is where the playscapes and kiddie stuff starts. When they put the new Pee Wee baseball diamond and soccer fields there, this older section kind of fell off the map. The whole park gets crowded in the summertime, but people usually forget about Abbot's Field and it then it feels like I'm the only one here. It's perfect for really pulling out the stops when nobody's around. Still, some of my favorite memories are when somebody's been around. I thought I liked being alone, but the truth is I had gotten used to being lonely. It's weird how you think you're one way and then find out that you're really not. It's like waking up to a new you—that's been this year in a nutshell.
So, anyway, that's it. That's the end of this part of the tour. What? You expected something more? Like what? Oh no. If I tried a routine now…well, there isn't any music, for one thing! iPod, huh? Let's see your playlist. Okay, yeah, I could work with that. Fine. Hold my jacket, watch my shoes and blast the volume. Just give me a second to get midfield. I can't believe I'm doing this…
Are you laughing? No laughing! Ha! Okay. Ready? Hit it!
*        *        *
See! I told you she was good! Now aren't you glad you stuck around for that? Alright, well it's time for us to head out. Oh, but before we go, did you catch today's code word? Make sure you use it to enter the grand prize giveaway – you definitely don't want to miss out! In fact, make sure that you collect ALL of the code words because you'll have a chance to win a special prize at the end of the tour if you collect them all.
Make sure that you head back over to my blog on Monday the 13th because I'll be posting my review of Invisible. See you then!
Dawn Metcalf has always lived on the edge between reality and magic, which explains her current profession and love of fantasy books and games. Her passions include karate, fairy tales, Victoriana and dark chocolate, often combining one or more of them in unexpected ways. Currently, she lives with her husband and family in northern Connecticut. If they had a sign, it would be: Confounding the Neighbor Children Since 1999. Dawn's current Young Adult series with HarlequinTeen, The Twixt, has four titles: Indelible (July 2013), Invisible (September 2014), Inviolate (June 2015), and Invincible (May 2016). She debuted with a Young Adult standalone, Luminous (June 2011, Dutton Juvenile).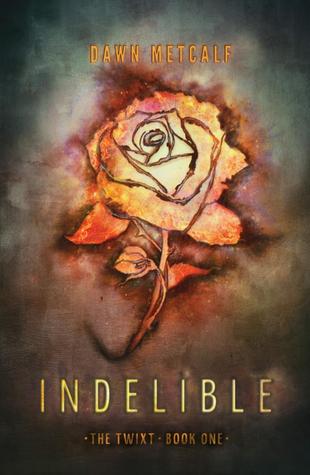 Title: Indelible (The Twixt #1)
Release Date: July 30, 2013
Some things are permanent.


Indelible.

And they cannot be changed back.

Joy Malone learns this the night she sees a stranger with all-black eyes across a crowded room—right before the mystery boy tries to cut out her eye. Instead, the wound accidentally marks her as property of Indelible Ink, and this dangerous mistake thrusts Joy into an incomprehensible world—a world of monsters at the window, glowing girls on the doorstep, and a life that will never be the same.

Now, Joy must pretend to be Ink's chosen one—his helper, his love, his something for the foreseeable future…and failure to be convincing means a painful death for them both. Swept into a world of monsters, illusion, immortal honor and revenge, Joy discovers that sometimes, there are no mistakes.

Somewhere between reality and myth lies…

THE TWIXT
Title: Invisible (The Twixt #2)
Release Date:
September 30, 2014
Some things lie beneath the surface. 

Invisible.

With the power to change everything.

Joy Malone wants it all—power, freedom and the boyfriend who loves her. Yet when an unstoppable assassin is hired to kill her, Joy learns that being the girl with the Sight comes with a price that might be too high to pay. Love will be tested, lives will be threatened, and everyone Joy knows and cares about will be affected by her decision to stand by Ink or to leave the Twixt forever.

Her choice is balanced on a scalpel's edge and the consequences will be more life-altering than anyone can guess.
Enter this Tour's code word (underlined in the text) into the form below and 
collect all 6 code words to win the Grand Prize Pack!
US & CAN only | Must be 13+ to enter | Contest runs 10/7-10/30
For full giveaway details and rules, see the Tour Kick-Off post here.
Be sure to follow the rest of the Tour! 

Related Posts