Paradise City

by C.J. Duggan
Series: Paradise #1
Also in this series: Paradise Road
Published by Hachette Australia on 4/28/15
Genres: Contemporary, Romance
Pages: 336
Source: Blog Tour, NetGalley
My content rating: Mature YA/NA (Some sexual situations that are described, but not explicitly)
My rating:

There's bound to be trouble in Paradise . . .When her parents decide a change will be good for her, seventeen-year-old Lexie Atkinson never expected they'd send her all the way to Paradise City. Coming from a predictable life of home schooling on a rural Australian property, she's sure that Paradise will be amazing. But when she's thrust into a public school without a friendly face in sight, and forced to share a room with her insipid, hateful cousin Amanda, Lexie's not so sure.

Hanging out with the self-proclaimed beach bums of the city, sneaking out, late night parties and parking with boys are all things Lexie's never experienced, but all that's about to change. It's new, terrifying . . . and exciting. But when she meets Luke Ballantine, exciting doesn't even come close to describing her new life. Trouble with a capital T, Luke is impulsive, charming and answers to no one. The resident bad-boy leader of the group, he's sexier than any boy Lexie has ever known.

 

Amidst the stolen moments of knowing looks and heated touches, Lexie can't help but wonder if Luke is going to be good for her . . . or very, very bad?
I'm a HUGE fan of Duggan's Summer series, so when I heard that Hachette Australia was publishing her new series, I was thrilled! Unlike the Summer series, these books are not standalones – the story is left very much up in the air at the end of Paradise City, but most of the elements that I loved about Summer are still there! I can't wait to see where Duggan goes with the story next!
What I loved:
The Australian setting. What's not to love about a book set in Australia? Paradise City brings us to a smallish Australian beach town in the 90's. I absolutely loved the ambiance! Lexie expects it to be a little slice of paradise, just like the name implies, but she finds that, despite the beach and the surfers, Paradise isn't all she'd imagined it to be.
Dreams and Expectations Versus Reality. The book is pretty much all about how Lexie built up this experience of going to school with her cousin in Paradise City in her mind and how it doesn't live up to her expectations at all. First off (and probably most importantly), her beloved cousin Amanda, who Lexie hasn't seen in years, seems to hate her for some unknown reason. And, while Lexie is used to working hard on her studies (she'd been homeschooled all her life), she realizes pretty quickly that being a good student isn't nearly enough to help her fit in at a public school. She had all these dreams and visions of what her life would be like in this new place, and they all come crashing down around her once she gets there! I loved Lexie's reality check and I thought that Lexie was a really relatable character who I sympathized with.
The romance and friendships. While Lexie isn't exactly sure how to fit in with Paradise City kids at first, she soon finds a niche with some of Amanda's friends (much to Amanda's dismay). These kids are a bit rough around the edges, and Lexie gets into a little trouble trying to get in good with them, but she does eventually form some real friendships there. I should point out that I wasn't crazy about all of Lexie's choices – some of the things she does are downright dumb! – but I still managed to like her and sympathize with her. Ballantine is a classic bad boy with a heart of gold. Because of some elements of his past, he has a bit of trouble putting himself out there and trusting, but he finds himself falling for Lexie anyway. I was definitely rooting for them as a couple!
The negatives:
Amanda. Amanda is supposed to be a pretty unlikable character (her main purpose in the book seemed to be to make Lexie miserable), but it was her sudden mood swings that really bothered me. I just couldn't quite figure her out. First she was absolutely horrible to Lexie for no apparent reason, then she was super sweet, and then, at the slightest provocation, she went back to being nasty. I didn't really understand her motivations completely, so she just kind of ended up bugging me.
The ending. If it weren't for the blurb for the next book, I would have been really aggravated with the ending to this one. It just seemed like Lexie gave up way too easily when things went wrong. In her situation, I would have been frantically trying to explain. Still, the blurb for book two renewed my faith in Lexie a little bit and I'm very intrigued to see what happens next.
This was a great start to the series, but definitely leaves you hanging. The next book is too far away!! I give this 4/5 stars.
***Disclosure: I received this book from NetGalley and the publisher in exchange for an honest review. No other compensation was given and all opinions are my own.***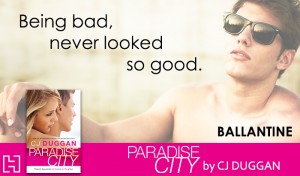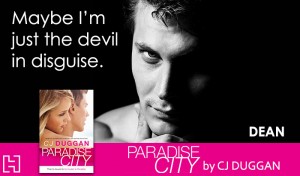 About the Author
C.J Duggan is a number one internationally bestselling Australian author of seven independent titles of her popular New Adult Summer series. In addition to her chart-topping indie novels, C.J is set to publish two titles with Hachette, Australia with her brand-new Paradise Series in 2015 (Paradise City and Paradise Road).
C.J lives with her husband in a rural border town of New South Wales, Australia. When she isn't writing books about swoony boys and 90s pop culture you will find her renovating her hundred-year-old Victorian homestead or annoying her local travel agent for a quote to escape the chaos.
Author Links:

Related Posts
4

Responses to "Paradise City by C.J. Duggan – Review & Giveaway"