Racing Hearts, Book 2

by Laura Lascarso
Series: Racing Hearts
Also in this series: Racing Hearts
Published by Leap Books on 6/30/15
Genres: Contemporary, Romance, Sports & Recreation
Pages: 130
Source: Blog Tour
My content rating: Mature YA (Characters have sex)
My rating:

See you at the finish line…

With the big race weeks away, eighteen-year-old Jesse Copeland struggles to keep his head in the game and his hands off his smoking hot competition. But when Brooke reveals a secret that could destroy Jesse's family, it sends him into a tailspin of self-doubt.

Jesse must pull himself together if he hopes to have a shot at the prize money, save his home, and win the heart of the girl he loves.

Can these two competitors overcome the sins of their fathers or will a shadowed history destroy their dreams forever?
***NOTE: This review is for the second novella in a series, and may contain (minor) spoilers for the first book. To see my review for the first novella, click HERE.***
Racing Hearts, Book 2 was a fantastic follow-up to the first novella, and definitely had me eager for more! This series features romance and race car driving – an incredibly fun combination!
In this installment, Jesse and Brooke continue to grow closer as the day of the big race nears. While Jesse works to get both of their cars ready for the race (without letting her father know, of course) he also starts to unravel some pretty major secrets about their families' pasts – secrets he just might wish he'd never uncovered!
What I enjoyed:
Jesse. Once again, I just fell in love with Jesse He's just the sort of guy who makes it impossible not to like him – even when he's messing up. (Hey, he wasn't perfect!) Jesse earnestly wanted to help Brooke, and he felt protective of her, but didn't try to hold her back. He knew how important racing was to her, and he completely supported her, even when it got tough for him to do so. Who could ask for more than that!
Brooke. Brooke seemed like even more of a spitfire in this book, which I loved! Plus, while I wasn't completely sure if I trusted her as far as Jesse was concerned in the first novella, she won me completely over in this one.
Secrets revealed. Pretty much all of the family mysteries that were set up in the first novella were revealed in this installment, which I appreciated. (Don't worry – Lascarso set up the suspense for the next book in a new way.) And I thought that all of the answers we got were satisfying, surprising and plenty intriguing!
Rivalry without jealousy. I loved that Lascarso put Jesse and Brooke into a situation where they had to compete but didn't turn jealousy into a major point of contention between the two of them. Both Jesse and Brooke supported each other and tried to help each other, even though they knew that, in the end, there could only be one winner of the big race. It will be interesting to see how these two react once the stakes get even higher in the next book …
The negatives:
Not much. Honestly, I think the only thing that holds me back from five star ratings on these are that they're too short to leave me completely satisfied when I'm done. There's nothing earth-shattering about these books, but they sure are great fun!!
I will definitely be continuing to read this series! With racing action, romance and a dash of suspense, these novellas have it all! I give this installment 4/5 stars.
***Disclosure: I received this book from the author in exchange for an honest review. No other compensation was given and all opinions are my own.***
And don't forget to pick up Book One from Amazon:
Take Lascarso's Buzzfeed Quizzes:
Who's your YA boyfriend?
Which YA genre are you?
ABOUT THE AUTHOR: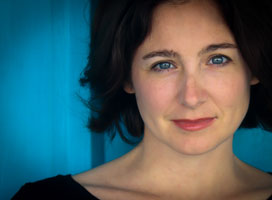 Laura Lascarso is the author of RACING HEARTS, an e-novella series, which tells the story of two star-crossed lovers set in the world of competitive car racing. Her debut YA novel COUNTING BACKWARDS, which deals with mental illness, won the Florida Book Award gold medal for YA literature in 2012. Laura lives in North Florida with her two children, darling husband and a menagerie of animals.
Author Links:
Related Posts
8

Responses to "Racing Hearts, Book 2 by Laura Lascarso – Review & $10 Giveaway"